Courses
THE ESSENTIAL BUSHCRAFT COURSE
Our new 4 day £210 course is so popular we have stopped running this course for now. Please look at our 4 day course here: (4 day course)
The syllabus is almost identical and for a fraction of the price.
This course gives a firm grounding in the knowledge and skill required to pursue bushcraft to its greater potential. The syllabus has been designed to take the novice with no experience to a level of competence with which they could enjoy the outdoors environment and life with greater confidence.
The training of each bushcraft skill is carefully explained and demonstrated by nationally PGCE qualified teachers and experienced bushcraft instructors before you are given the chance to practice the skill under the watchful eye of the British bushcraft team.
At the end of the training course there is a test for those who wish to take it giving you the chance to put all that has been learnt into practice.
The skills covered
Equipment selection and what you should carry
Bow drill fire by friction
Natural and woodland constructed shelters
Man-made shelters including tarp use
Flint and steel
Swedish fire steel use
Carving techniques
Trapping
Fishing
Spears and harpoons
Simple containers and the bush cup
Preparing game and fish
Pot hangars and bushcraft cooking skills
Fire management
Knots and rope throwing
Navigation
Edible plants and tree identification
Water sources and purification
Breads and stews
Lashings and cordage
Sharpening
Backcountry hygiene
Outdoor safety
Learning to track
Leaving no trace
This is a five day course run from a central basecamp in gorgeous bluebell filled ancient coppiced woodland, surrounded by wildlife such as buzzards, deer and badger. The course runs from 9am on a Monday and finishes at about 4pm on the following Friday.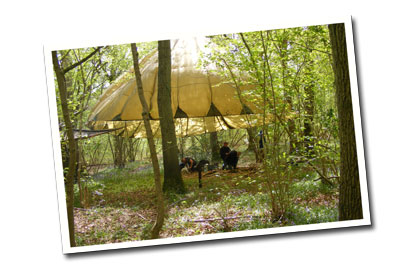 Cost: NOW £390 (was £490)
pre-requisite bushcraft courses: none
To book contact us on learnbushcraft@gmail.com or 07952683383.
Dates
Our new 4 day £210 course is so popular we have stopped running this course for now. Please look at our 4 day course here: (4 day course)
The syllabus is almost identical and for a fraction of the price.
If you can't make any of these dates please call us and we can arrange a time that suits you for the same cost.
Our Other Courses: