More about us
The ethos of the school is one of teaching carefully and patiently, ensuring the highest possible chances of success for students studying the many bushcraft skills we teach. A unique part of studying with The British Bushcraft School is the free aftercare. Once you have attended a bushcraft course with us we offer free advice and follow up instruction either via email, phone or in person relating to anything you have learnt with us for 6 months after.
This gives the peace of mind knowing that if you have developed a few problems with a specific technique or have forgotten some essential knowledge then you can contact the school for help and if you're in the area and one of the instructors are available you can pop in for some free help! This is of course within reason.
Our Instructors
Dale Collett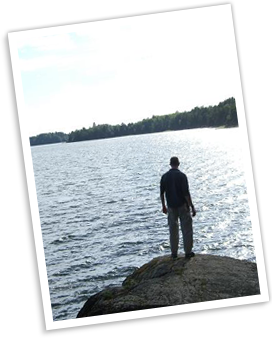 Born on a farm and brought up in the rural Midlands Dale was lucky enough to have woodland and open countryside as his playground. This fostered an early interest in the outdoors and his main interest in bushcraft; something he has pursued ever since building a vast and expert knowledge of wilderness living and survival skills.
In the last few years he has taught bushcraft courses to members of the public from all over the uk, becoming renowned as one of the uk's top experts in many fire by friction skills. He is called on to work for other buscraft schools, teaches bushcraft for local and national charities. He also teaches bushcraft to school children and has performed many open day displays through the London Wildlife Trust and City of London parks including Hamstead heath.
Dale's own bushcraft training comes from attending bushcraft courses run and taught by experts like Ray Mears, Juha Raikanen and John Lord, the UK's top flint-knapper.
But he learnt most of his skills the hard way; through self teaching, dedication, practice, experimentation and of course making mistakes; hence he is able to pass on skills whilst understanding the pitfalls and more importantly the best guidance to teach techniques and refine ability.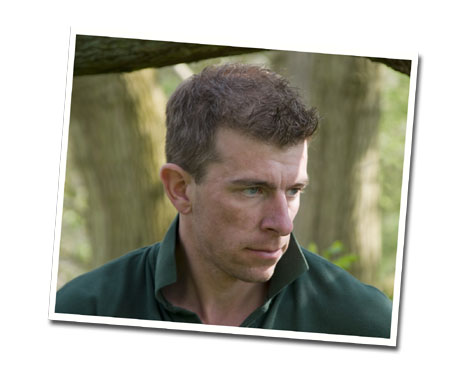 Dale currently has an application in with Guinness for a world record; where he used a sub 3 inch hand drill to make fire by friction. He also invented a new way of lighting fire by friction by using the legs instead of the arms to provide the power. He also has a wide range of wild edibles knowledge, is a skilled knife maker, wood carver and bowyer and has a wide range of bushcraft instructing experience from teaching children and adults alike.
Dale is a qualified school teacher and is very experienced in teaching in an effective and confidence building manner. He is also a qualified mountain leader, outdoor education instructor and an ex police officer. His outdoor experience stretches far beyond survival skills; he has spent a vast amount of time mountain walking, wildeness camping, canoeing, sailing and climbing. He has a witty and friendly manner and heads up the team at the British Bushcraft School.
Bryce Tangvald
Hailing from Washington state in North America, Bryce has a strong outdoors background from working as a Wilderness Ranger, through to forestry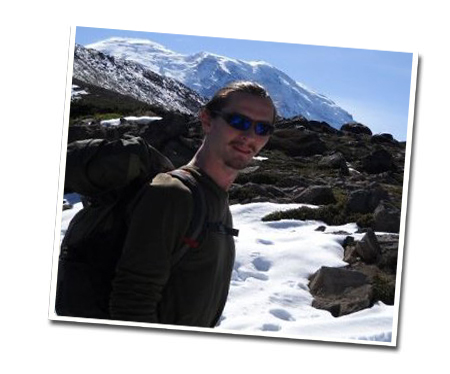 work with the US forestry service, and of course pursuing the outdoors life of the vast and wild northwest Pacific coast. Both back in the States and here in the UK Bryce fills his free time with mountain walking, kayaking and follwing one of his favourite pursuits, bushcraft. Bryce trained with Earthwalk northwest where he completed a primative living skills apprenticeship, thus gaining a vast knowledge of bushcraft and primative survival skills. To add to this Bryce is also a competant forestry worker, wood carver, cook and is also an ex wilderness first responder and an emergency medical technician.
Bryce is skilled in many bushcraft areas from wild edibles, fire by friction, wood carving, nature observation through to bow making and navigation. He is very well travelled, has a great calm manner and is great to listen to whilst he instructs in a careful and concise way, weaving in many funny and amazing stories from his life experience to date.
Alexi Lamoon
An acomplished bowyer, fletcher and archery coach. Alexi is a valuable member of the team. He has a good knowledge of camp craft and is very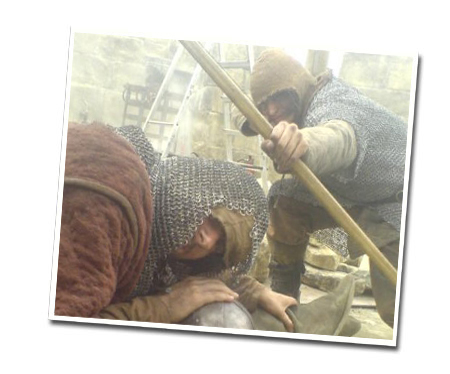 skilled at carving and is not a bad cook! He has a good grounding in firercraft and is hot on the heals of Dale in the floating handrill, bowdrill and fire plough stakes. Alexi is currently studying tree surgery at Capel Manor college in London and has a first class knowledge of trees and their uses to the survivalist. He also has a good knowledge of history and prehistory and can often be seen romping around in the background of a historical hollywood movie. His latest appearance being in Ridley Scott's Robin Hood. Alexi's claim to fame being that 'he was told off by Ridley Scott for walking around like he needed the loo' this allegedly cost £600 in re-takes! Alexi's excuse was - "the armour was very heavy so I couldn't walk properly"! But at least Alexi is a very good shot with a bow! And very skilled at teaching the skills needed to become a very competant archer. In the photo he is the scary looking one on the right.
Ben Clark
Ben is our resident Ornithologist and wildlife expert. His knowlegde of birds and animals is utterly amazing. He is very skilled in nature observation and photography, a keen outdoorsman being blessed with a photographic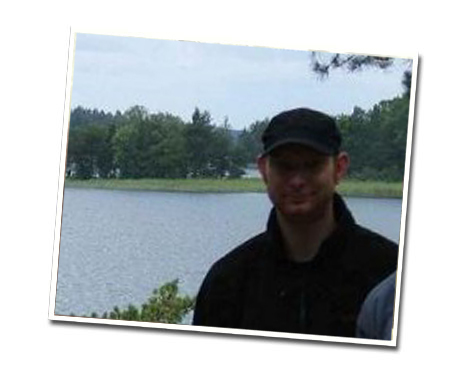 memory and the eyes of a vulture. He can spot a waxwing at 200m! Ben is currently studying with us to enable him to help instruct a wider range of the bushcraft syllabus, thus he is becoming very proficient in carving, camp craft, cordage making and fire craft. He is also a gifted fisherman, outdoors navigator and tracker and is always taking every oppourtunity to improve his skills. He is very well travelled from wilderness trips in Sweden through to sailing in the Carribean. He is a competant hill walker, kayaker and canoer. he is also rather oddly unbeaten in the wrist bending game of peanuts.
Links
Click on the links below for bushcraft related sites and sites of outdoor interest and active pursuits.
Two great websites for outdoor gear and military equipment, with all the leading brands (e.g. 5.11 tactical, Jetboil, Karrimor, Jack Pike, Sealskinz and Snugpak) all at competative prices. The outdoor fusion site is aimed more at civilian campers/travellers and the nightgear website is for more tactical, military style equipment. Both have a good amount of kit for bushcrafters.
http://www.OutdoorFusion.co.uk
A top rate martial arts club run by Dave Taylor, one of the UK's top authorities on Wing Chun Kung Fu and the only recognised instructor outside of China for Chen Jin Iron Shirt and Golden Bell 21. These are martial arts that actually work and are supurb for self defence arts for everyone! Great for building strength stamina and confidence and useful in dealing with the modern day ailments of anxiety, stress and depression.
Britian's top selling bushcraft and survival magazine and an excellent bi monthly read for all lovers of nature, crafts and the countryside.
A top bushcraft show from the publishers of Bushcraft and Survival Skills magazine.
A great site dedicated to all types of outdoors mechandise
http://www.bronzemoonoutdoors.co.uk/links
A top place for forest adventures for schools and children! Run by Jason Hardwick, a very experienced and dynamic instructor who has an ability to engage students of all ages! Excellent for team building and broadening the horizons of any child or adult.
www.theforestschoolcompany.co.uk
Fantastic fire pistons and a wealth of other bushcraft resources from Dustin James! Well worth a look and I can fully recommend the fire pistons.. small handy and very effective!
Rathbones of Keswick for a wide choice of good outdoors gear from a friendly family run company. Stockist of Paramo.
www.rathbonesofkeswick.co.uk
Bushcraft courses in the south east of England.
www.natural-pathways.co.uk
Bushcraft website from the USA.
www.stoneageskills.com
Good knife resources websites.
http://www.berniegarlandknives.com
http://www.ukbladesforum.co.uk/
Great resources website for knifemaking products.. and awesome service from Jean Turner!!
Bushcraft and nature on the gorgeous islands off the west coast of Scotland
http://www.islaybushcraft.co.uk/
Link to suppliers of rattan, bamboo and balsa
Buy the materials for rattan fire thong and bamboo fire saw here:
http://www.canestore.co.uk/furniturerattan.htm (use Manua cane for the fire thong in 40-50mm sections. We cannot accept responsibility for the item not being suitable as all natural materials vary and the material is not sold by the canestore for the purpose of fire by friction).
http://www.slecuk.com/catalogue/Balsa-Block-915mm.html (go for the 75mm x 100mm x 915mm as this will give plenty of wood to work with. As with the rattan, the wood on this website is sold for model making and not for fire by friction therefore if it does not work we cannot be held responsible)